Introducing the Old Testament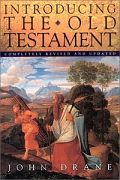 Overview
Since its launch in 1987, Introducing the Old Testament has been widely acclaimed as an authoritative and accessible text for students and general readers alike.
This thorough revision differs in important ways from the original edition. As well as being considerably longer, it takes into account the most recent scholarship, especially in relation to historical questions such as the origins of Israel as a nation. It incorporates more specific treatment of the spirituality and religious values of the Old Testament, and discusses the major deuterocanonical books. This edition also analyses some of the ethical issues raised by the Old Testament in relation to contemporary concerns such as ethnic cleansing.
Introduction to the Old Testament provides an excellent and informative introduction to a collections of writings that lie at the heart of the Judeo-Christian tradition.
Product Details
Title: Introducing the Old Testament
Author: John Drane
Publisher: Lion Publishing
Publication Date: 2000
Pages: 364
Reviews
What other people are saying about Introducing the Old Testament.