Saint Paul's Epistle to the Philippians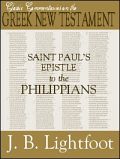 Overview
J.B. Lightfoot's classic commentary on the Greek version of Philippians. Contains extensive verse-by-verse exegetical commentary, as well as dissertations on the history and setting of the epistle, the nature of Christian ministry (including the offices of bishop/presbyter and deacon), and speculations concerning St. Paul and the Roman philosopher Seneca.
Product Details
Title: Saint Paul's Epistle to the Philippians
Author: Joseph Barber Lightfoot
Publisher: Macmillan and Co.
Publication Date: 1913
About Dr. Joseph Barber Lightfoot
Dr. Joseph Barber Lightfoot was educated at Cambridge and Oxford, became the Lord Bishop of Durham in the church of England, served as a minister in St. Paul's Cathedral in London, and was Professor of Divinity at Cambridge University. He was also one of the original members of the New Testament Company of Bible Revisers. His other commentaries include volumes on Galatians and Colossians & Philemon.
Reviews
What other people are saying about Saint Paul's Epistle to the Philippians.