The Epistle to the Hebrews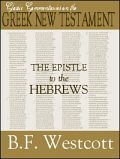 Overview
B.F. Westcott's classic commentary on the Greek version of Hebrews. Contains extensive verse-by-verse exegetical commentary, as well as multiple "dissertations" on various subjects relating to the epistle.
Product Details
Title: The Epistle to the Hebrews (Westcott)
Author: Brooke Foss Westcott
Publisher: Logos Research Systems, Inc.
Publication Date: 1902
Pages: 497
About Brooke Foss Westcott
Brooke Foss Westcott was Regius Professor of Divinity at Cambridge University, Bishop of Durham, and co-editor of the Westcott-Hort critical edition of the Greek New Testament.
Reviews
What other people are saying about The Epistle to the Hebrews.