The Handbook to Bible Study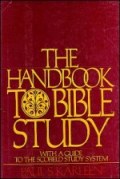 Oxford University Press
, 1987
Overview
The Handbook to Bible Study represents an entirely new approach to Bible study. Nowhere else will the conservative Christian find another Bible study guide quite like it: concise yet comprehensive, innovative in approach yet traditional in doctrine. Instead of simply giving you facts, it supplies you with the tools you need to understand the Bible, and shows you how to use them. With the help of the Handbook you can continue to learn about the Bible and deepen your understanding of God's Word to an extent you never thought possible.
Product Details
Title: The Handbook to Bible Study
Author: Paul S. Karleen
Publisher: Oxford University Press
Publication Date: 1987
Reviews
What other people are saying about The Handbook to Bible Study.