Harper's Bible Dictionary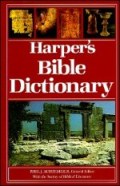 Overview
Harper's Bible Dictionary is a magnificent companion to the Harper's Bible Commentary. It allows you to understand, in all their contexts, the texts of the Old Testament, the Apocrypha, and the New Testament. It is completely up to date, and represents the best current biblical scholarship. The entire volume is written by 180 members of the Society of Biblical Literature, and contains 3500 articles and 400 photographs.
Product Details
Title: Harper's Bible Dictionary
Author: Paul J. Achtemeier
Publisher: Harper & Row
Publication Date: 1985
Reviews
What other people are saying about Harper's Bible Dictionary.