The New American Commentary: Romans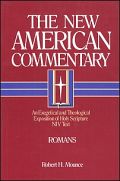 Overview
Since a commentary is a fundamental tool for the expositor or teacher who seeks to interpret and apply Scripture in the church or classroom, the NAC focuses on communicating the theological structure and content of each biblical book. The writers seek to illuminate both the historical meaning and contemporary significance of Holy Scripture.
In its attempt to make a unique contribution to the Christian community, the NAC focuses on two concerns. First, the commentary emphasizes how each section of a book fits together so that the reader becomes aware of the theological unity of each book and of Scripture as a whole. The writers, however, remain aware of the Bible's inherently rich variety. Second, the NAC is produced with the conviction that the Bible primarily belongs to the church. We believe that scholarship and the academy provide an indispensable foundation for biblical understanding and the service of Christ, but the editors and authors of this series have attempted to communicate the findings of their research in a manner that will build up the whole body of Christ. Thus, the commentary concentrates on theological exegesis, while providing practical, applicable exposition.
Contents
Introduction (1:1–17)
The Unrighteousness of All Humankind (1:18–3:20)
The Righteousness Only God Can Provide (3:21–5:21)
The Righteousness in Which We Are to Grow (6:1–8:39)
God's Righteousness Vindicated (9:1–11:36)
How Righteousness Manifests Itself (12:1–15:13)
Conclusion (15:14–16:27)
Selected Bibliography
Product Details
Title: The New American Commentary: Romans
Author: Robert H. Mounce
Publisher: Broadman Press
Publication Date: 1995
Pages: 304
Reviews
What other people are saying about The New American Commentary: Romans.