From This Verse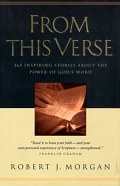 Overview
Let the 365 Scriptures that changed the world change your life forever!
Around the globe and throughout Christian history, men and women have been changed by the Word of God. Now discover the 365 Scriptures that transformed the lives of Christian leaders like Billy Graham, D. L. Moody, Billy Sunday, Charles Wesley, Dale Carnegie, and others. Learn how God challenged and inspired these "ordinary" men and women with a single verse. From This Verse provides a year's supply of spiritual insight and encouragement. Each day's reading includes a related Bible passage, with the hope that God will use these verses in the lives of readers as He did in the lives of those whose stories are shared. Robert J. Morgan's remarkable ability to weave human interest with biblical wisdom will captivate your heart and strengthen your faith in the God who can still change lives through the power of His Word!
Product Details
Title: From This Verse
Author: Robert J. Morgan
Publisher: Thomas Nelson
Publication Date: 1998
Reviews
What other people are saying about From This Verse.