Nelson's New Illustrated Bible Commentary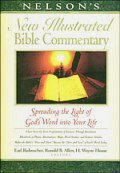 Overview
A comprehensive verse-by-verse commentary for lay Bible students, fully highlighted by articles, maps, charts, and illustrations—all in one volume.
Key Features
Clear and Comprehensive: Annotations by leading evangelical scholars don't dodge tough issues; alternative views are presented fairly, but commentators make their positions clear.
Attractively Designed: Graphics appeal to the sound-bite generation and others who aren't traditional commentary readers.
Interesting and Revealing: Hundreds of feature articles that provide additional information or new perspectives on a topic related to Bible background.
Visually Appealing: Maps, drawings, and photos illuminate the commentary and visualize important information.
General Editor, Earl Radmacher (Th.D.), of Western Conservative Baptist Seminary; Old Testament Editor, Ronald B. Allen (Th.D.), of Dallas Theological Seminary; New Testament Editor, H. Wayne House (Th.D., J.D.), of Michigan Theological Seminary and Simon Greenleaf School of Law
Reviews
What other people are saying about Nelson's New Illustrated Bible Commentary.