Praying in the Spirit (SFL)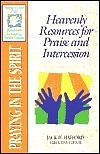 Overview
This study explores the gift of spiritual language: the biblical foundations for speaking in tongues and how this gift deepens and enriches the believer's spiritual life. You'll learn how spiritual language accompanied the outpouring of the Holy Spirit in the early church, guidelines for using this gift to the glory of God, and guidance for helping others experience it too.
Product Details
Title: Praying in the Spirit
Authors: Jack W. Hayford, Rebecca Bauer
Series: Spirit Filled Life
Publisher: Thomas Nelson
Publication Date: 1997
Reviews
What other people are saying about Praying in the Spirit (SFL).