On This Day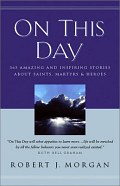 Overview
Amazing stories of faith from twenty centuries of church history!
From the Roman Empire to the Reformation, St. Valentine to St. Francis, Martin Luther to Billy Graham, On This Day introduces you to a parade of preachers, martyrs, heroes, and saints. Intriguing and inspiring stories from 2,000 years of Christianity offer an enjoyable glimpse into church history. On This Day is 365 simple, colorful stories about history-making events in the lives of people who love God wholeheartedly. On This Day brings a year's worth of inspiration and spiritual challenge as you learn what some Christians went through for the love of God.
Praise for the Print Edition
On this Day is an exciting book that recaptures the history of Christianity. It is practical, profound, and powerful! I highly recommend it.
—John Hagee
On This Day will whet appetites to learn more ... life will be enriched by all the fellow believers you never even realized existed.
—Ruth Bell Graham
A fascinating collection of vignettes.
—James M. Boice
Product Details
Title: On This Day
Author: Robert J. Morgan
Publisher: Thomas Nelson
Publication Date: 1997
Reviews
What other people are saying about On This Day.