What Does the Bible Say About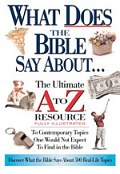 Overview
Contains articles on almost 500 topics that touch on modern life, identifying Bible verses or passages that have relevant messages for people today. Catches the reader's attention with words and phrases, such as "ecology" or "the bottom line," that are more associated with modern life than a 2,000-year-old book. Shows how the teachings of the Bible relate to these contemporary terms from "areobics" to "the workplace." Entertaining as well as informative: a one-of-a-kind illustrated reference work that all Bible students—whether lay persons or clergy—will enjoy and appreciate.
Product Details
Title: What Does the Bible Say About
Author: Thomas Nelson Publishers
Publisher: Thomas Nelson
Publication Date: 2001
Reviews
What other people are saying about What Does the Bible Say About.