He Chose the Nails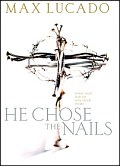 Overview
The wood. The thorns. The nails. Christ's sacrifice has defined the very essence of mankind's faith for the past 2000 years. And now, Max Lucado invites you to examine the cross, contemplate its purpose, and celebrate its significance with He Chose the Nails. With his warm, caring style, Max examines the symbols surrounding Christ's crucifixion, revealing the claims of the cross and asserting that if they are true, then Christianity itself is true.
Product Details
Title: He Chose the Nails
Author: Max Lucado
Publisher: Word Publishing
Publication Date: 2000
Pages: 215
Reviews
What other people are saying about He Chose the Nails.