Love Worth Giving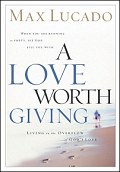 Overview
God's love is waiting for us; all we have to do is receive it. Then, in the true spirit of Christmas, we in turn give it to someone else.
Best-selling author Max Lucado has successfully pricked the hearts and minds of readers for decades. Now, he boldly says that before we can pass love on, we must receive it ourselves—from God. Pointing out that we must "love one another," Lucado issues an impassioned plea to accept God's love in order to truly, unselfishly, whole heartedly love another. A book about giving a priceless gift, A Love Worth Giving includes "The Christmas Cookie" story, the message of salvation and Max's insight into drinking fully of the love of God.
Product Details
Title: Love Worth Giving
Author: Max Lucado
Publisher: W Publishing Group
Publication Date: 2002
Pages: 214
Reviews
What other people are saying about Love Worth Giving.