America Looks Up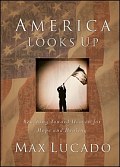 Overview
In a time such as this, believers and unbelievers alike, are turning to God like never before - Max Lucado helps us understand how to pray despite doubt and fear.
When tragedy strikes, people desperately search for answers. On September 11, 2001, our Nation began that desperate search. There wasn't a city, a family, or a single person that survived unaffected by the horrific events of that infamous day. Best-selling author and pastor Max Lucado points to the only real answer: Prayer. Derived from Max's prayer for the Nation in response to the attacks, America Looks Up explores how we should pray in these uncertain and confusing days.
Product Details
Title: America Looks Up
Author: Max Lucado
Publisher: W Publishing Group
Publication Date: 2001
Pages: 81
Reviews
What other people are saying about America Looks Up.