Life Lessons: Book of John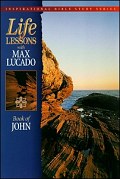 Overview
As an old man and the last surviving apostle, John wrote about the life of Christ as he experienced it. This study helps us understand what he saw and heard for the generations of the Church without eyewitnesses. With scripture readings, inspirational readings, questions to answer, space for journaling, and a prayer, it's like studying the Bible with Max Lucado.
Product Details
Title: Life Lessons: Book of John
Author: Max Lucado
Publisher: Word Publishing
Publication Date: 1996
Pages: 110
Reviews
What other people are saying about Life Lessons: Book of John.