MacArthur Bible Studies: Ruth & Esther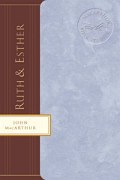 Overview
When it comes to heroes and sheroes, Ruth and Esther are unmatched in the course of history. Facing poverty, social rejection, personal danger, and even death, they show us how God often directly intervenes in the lives of his faithful people. Two stories of faith, bravery, and hope that help us believe that God is real, he is alive, he protects and guides us.
Product Details
Title: Ruth & Esther
Author: John MacArthur
Series: MacArthur Bible Studies
Publisher: Thomas Nelson
Publication Date: 2000
Reviews
What other people are saying about MacArthur Bible Studies: Ruth & Esther.