MacArthur Bible Studies: 1 & 2 Peter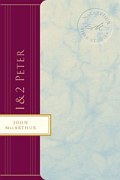 Overview
Tradition says that Peter died during Nero's merciless persecution. Just before his death, Peter probably writes his second letter to warn the beloved believers in Christ about the false teachers and doctrinal dangers they will be facing without him. Today these letters encourage us also to stand strong in the face of troubles and trials. Their study is crucial to the Christian walk.
Product Details
Title: 1 & 2 Peter
Author: John MacArthur
Series: MacArthur Bible Studies
Publisher: Thomas Nelson
Publication Date: 2000
Reviews
What other people are saying about MacArthur Bible Studies: 1 & 2 Peter.