MacArthur Bible Studies: Hebrews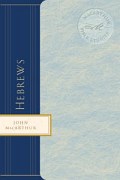 Overview
The Book of Hebrews is grounded in the work of the Levitical priesthood. The generation of Hebrews receiving this letter had practiced sacrifices at the temple in Jerusalem for a lifetime. Hebrews emphasizes the superiority of Christ's once-for-all, perfect sacrifice over the repeated, imperfect Levitical sacrifices. It shows us how to have a better life in Christ.
Product Details
Title: Hebrews
Author: John MacArthur
Series: MacArthur Bible Studies
Publisher: Thomas Nelson
Publication Date: 2001
Reviews
What other people are saying about MacArthur Bible Studies: Hebrews.