MacArthur Bible Studies: Nehemiah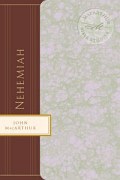 Overview
Three major themes are seen in the Book of Nehemiah: (1) careful attention to the reading of God's work in order to do his will, (2) the constant obedience of Nehemiah, and (3) repeated enemy opposition. Through it all, God orchestrated the reconstruction of the walls if His city to accomplish His purpose and plan for then and now.
Product Details
Title: Nehemiah
Author: John MacArthur
Series: MacArthur Bible Studies
Publisher: Thomas Nelson
Publication Date: 2001
Reviews
What other people are saying about MacArthur Bible Studies: Nehemiah.