MacArthur Bible Studies: 1 & 2 Timothy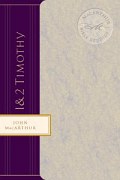 Overview
The Books of 1 and 2 Timothy shed the light of God into such shadowy corners of church life as false doctrine, disorder in worship, the need for qualified leaders, and materialism. These issues are as vital and frustrating for church leaders today as they were for young Timothy. So this study will be like reading a letter from Paul to us that was written yesterday.
Product Details
Title: 1 & 2 Timothy
Author: John MacArthur
Series: MacArthur Bible Studies
Publisher: Thomas Nelson
Publication Date: 2001
Reviews
What other people are saying about MacArthur Bible Studies: 1 & 2 Timothy.