MacArthur Bible Studies: 1 Corinthians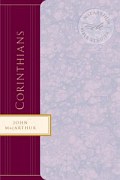 Overview
Most of the believers at the Corinth could not consistently separate themselves from their old, selfish, immoral, and worldly ways, which created havoc in the church. It became necessary for Paul to write this first letter to them to correct the problems. But their weaknesses are also our weaknesses. Their sins are our sins. So study carefully Paul's godly counsel for solving problems in the church and in your own spiritual life.
Product Details
Title: 1 Corinthians
Author: John MacArthur
Series: MacArthur Bible Studies
Publisher: Thomas Nelson
Publication Date: 2001
Reviews
What other people are saying about MacArthur Bible Studies: 1 Corinthians.