MacArthur Bible Studies: Mark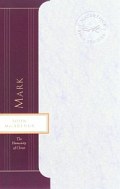 Overview
The book of Mark consists primarily of what the Apostle Peter preached about Jesus Christ. Probably written by John Mark in Italy for the benefit of Roman Christians, it carefully reports the amazing life of Christ.
Product Details
Title: Mark
Author: John MacArthur
Series: MacArthur Bible Studies
Publisher: Thomas Nelson
Publication Date: 2000
Reviews
What other people are saying about MacArthur Bible Studies: Mark.