MacArthur Bible Studies: James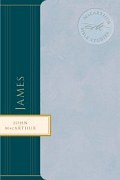 Overview
In fierce opposition to their ungodly rationalization for sin, James gives five proofs that God is not responsible for our temptations or for our succumbing to sin. He does so by explaining the nature of evil, the nature of man, the nature of lust, the nature of God, and the nature of regeneration. This insightful study will help bring spiritual peace to your stressful world.
Product Details
Title: James
Author: John MacArthur
Series: MacArthur Bible Studies
Publisher: Thomas Nelson
Publication Date: 2001
Reviews
What other people are saying about MacArthur Bible Studies: James.