MacArthur Bible Studies: Galatians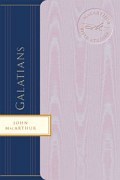 Overview
Paul eloquently presents the case for justification by faith, the heart of the gospel, in his letter to the Galatians. Galatians beautifully reveals the trusted bible teachers, the study of Galatians implants the wondrous grace of God deeply in your heart and life.
Product Details
Title: Galatians
Author: John MacArthur
Series: MacArthur Bible Studies
Publisher: Thomas Nelson
Publication Date: 2000
Reviews
What other people are saying about MacArthur Bible Studies: Galatians.