MacArthur Bible Studies: Daniel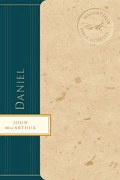 Overview
Daniel, the one who is thrown into the lions' den and lives to tell about it, the one whose friends survive the fiery furnace, the one who interprets dreams, the one who defies the king. Through the study of this amazing man, led by one of America's most beloved and trusted Bible teachers, we learn to depend entirely on the God who rules rulers, governs governors, and even reigns over kings. From him we learn humility.
Product Details
Title: Daniel
Author: John MacArthur
Series: MacArthur Bible Studies
Publisher: Thomas Nelson
Publication Date: 2000
Reviews
What other people are saying about MacArthur Bible Studies: Daniel.