MacArthur Bible Studies: Acts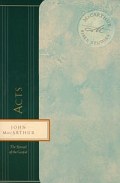 Overview
Acts describes the world's initial response to Christ's Great Commission and the spread of the gospel. It provides details of the first three decades of the church's existence-material found nowhere else in the New Testament. To know the roots of your Christianity, you must study the Book of Acts.
Product Details
Title: Acts
Author: John MacArthur
Series: MacArthur Bible Studies
Publisher: Thomas Nelson
Publication Date: 2000
Reviews
What other people are saying about MacArthur Bible Studies: Acts.