MacArthur Bible Studies: John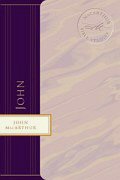 Overview
The gospel of John focuses on Jesus as the World, the Messiah, and the Son of God, who brings the gift of salvation to people. As Christians, we too need to focus on Jesus, who offers us salvation by grace through our faith in him, John's book will help us do that.
Product Details
Title: John
Author: John MacArthur
Series: MacArthur Bible Studies
Publisher: Thomas Nelson
Publication Date: 2000
Reviews
What other people are saying about MacArthur Bible Studies: John.