Can God Bless America?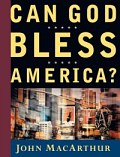 Overview
Recently, and seemingly overnight, the once cliché slogan "God Bless America" became almost a national mantra. John MacArthur gets to the heart of the matter by asking the questions most Americans choose to ignore: "Should God bless America?" and "Is America deserving of blessing?" Turning to the Old Testament, he presents the simple truth of God's word, his blessing has always had conditions. MacArthur calls the Nation to turn back to God by showing us how we can become a nation that is once again blessed by God.
Product Details
Title: Can God Bless America?
Author: John MacArthur
Publisher: Thomas Nelson
Publication Date: 2002
Pages: 97
Reviews
What other people are saying about Can God Bless America?.