God in the Manger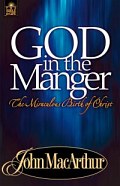 Overview
An in-depth look at the miracle and the mystery of the birth of Christ.
Pastor John MacArthur unravels the intricacies of the event that changed the face of human history: the birth of Christ. As he examines every angle of Christ's birth—from the heavenly announcement, to the mixed reactions and the powerful ramification—the superiority and preeminence of Jesus Christ will shine through and speak volumes about creation, redemption, and divine destiny.
Product Details
Title: God in the Manger
Author: John MacArthur
Publisher: Thomas Nelson
Publication Date: 2001
Pages: 155
Reviews
What other people are saying about God in the Manger.