Biblical Counseling for Today: A Handbook for Those Who Counsel from Scripture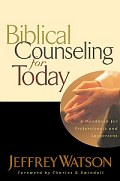 Overview
In his preface to this challenging book Jeff Watson describes biblical counseling as "a noble adjective married to a nervous noun."
Believers are wise to be skeptical of much that is done in the name of counseling in secular settings. Even under the umbrella of "Christian counseling," one has heard horror stories of cases where God's Word has been misused. But Jeff Watson makes a strong case in this volume for the legitimacy of marrying "biblical" and "counseling."
Christian counselors, says Watson, need to cultivate three fundamental skills in their patients:
How to tell their stories;
How to choose their goals wisely; and
How to practice changes in their lives.
Watson helps counselors achieve these goals by drawing on the interactions of Christ, the commands of Scripture, and the actions of the apostles and prophets. Thus he marries counseling and biblical principles.
Key Features
Discusses models of biblical counselors from the Bible
Gives guidelines and skills for Christian counselors
Contents
Definitions in Biblical Counseling
Skills for Biblical Counselors
Models of Biblical Counselors
Product Details
Title: Biblical Counseling for Today : A Handbook for Those Who Counsel from Scripture
Authors: Jeffrey Watson, Charles R. Swindoll, and Roy B. Zuck
Publisher: Thomas Nelson
Publication Date: 2000
Pages: 244
Reviews
What other people are saying about Biblical Counseling for Today: A Handbook for Those Who Counsel from Scripture.