The Canvas Cathedral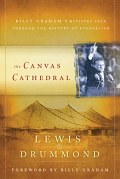 Overview
The Canvas Cathedral is a book that would serve as both a history of evangelism as well as a personal history of the evangelical ministry of Billy Graham.
Dr. Lewis Drummond carefully examines the history of evangelism and the methods used throughout history. He starts with the Apostle Paul and ends with a special emphasis on the ministry of Billy Graham.
This book is a "must buy" for pastors, teachers, professors, students, and lay persons who are interested in the various ways that ministry and evangelism has taken place over the centuries, from Roman coliseums to canvas cathedrals.
For this reason, The Canvas Cathedral can be used in the classroom, the church, or for personal study to learn more about the scope of evangelism through the centuries.
Product Details
Title: The Canvas Cathedral
Author: Lewis A. Drummond
Publisher: Thomas Nelson
Publication Date: 2003
Pages: 578
Reviews
What other people are saying about The Canvas Cathedral.