Kairos: Answer Key and Guide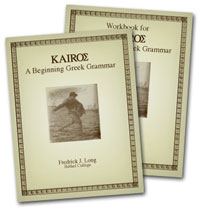 Overview
Having a good teacher makes all the difference when learning to read and understand the Greek New Testament. The Kairos beginning grammar and accompanying workbook are the next best thing to having a personal Greek tutor guiding you along the path toward proficiency. This answer key and guide are the tools you need to make the most of your Kairos grammar.
Product Details
Title: Kairos: Answer Key and Guide
Author: Dr. Fredrick Long
Publisher: Logos Research Systems
Publication Date: 2004
Reviews
What other people are saying about Kairos: Answer Key and Guide.