Practical Wisdom for Pastors: Words of Encouragement and Counsel for a Lifetime of Ministry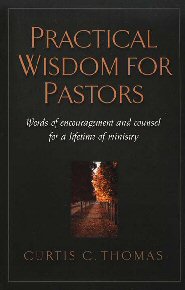 Overview
From his 44 years in the ministry, a veteran pastor has culled a wealth of practical insights on the hazards, blessings and everyday aspects of church life into a user-friendly source of help and encouragement for fellow shepherds.
As a pastor your job is filled with blessings and satisfaction, as well as unique challenges and pitfalls. Here a ministry veteran covers virtually all of those areas with a wealth of practical insight culled from 44 years in the pastorate. Blending his deep love of the Word and commitment to biblical ministry, Curtis Thomas offers a rich source of help and encouragement that will enthuse and benefit you whether you've pastored for five years or 50.
The ten major sections include: personal life, family life, study habits, messages, church life, counseling, weddings/divorces/funerals, relationships with others, dangers, and miscellaneous issues.
Praise for the Print Edition
I wish this book had been available when I began in ministry more than 35 years ago. As I read, I found my own enthusiasm for pastoral ministry invigorated, and even as a veteran pastor, I found much I could benefit from.
The beginning workman in God's vineyard could hardly find a more practical, helpful, and instructive work than this book. With sound judgment, good taste, and a mature knowledge of the pitfalls challenging every pastor, Curtis Thomas brings together the real hands-on, how-to-do-it advice that can make the road a lot smoother.
—D. James Kennedy
Thomas has done a great service for all pastors, young or old.
—Adrian Rogers
A great gift that will both guide and encourage ministers in this highest of all callings.
—R. Albert Mohler, Jr.
Product Details
Title: Practical Wisdom for Pastors: Words of Encouragement and Counsel for a Lifetime of Ministry
Author: Curtis C. Thomas
Publisher: Crossway
Publication Date: 2001
About Curtis C. Thomas
Curtis C. Thomas served as pastor of several Baptist churches in the central Arkansas area before recently retiring after 44 years in the ministry. Most recently, he served as Executive Pastor of The Bible Church in Little Rock for 14 years. He has co-authored two books, Romans: An Interpretive Outline and The Five Points of Calvinism: Defined, Defended, Documented.
Sample Page Scans: Forward by MacArthur | Sample 1 | 2
Reviews
What other people are saying about Practical Wisdom for Pastors: Words of Encouragement and Counsel for a Lifetime of Ministry.