Take Heart: Daily Devotions with the Church's Great Preachers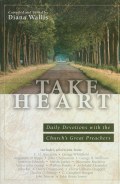 Overview
As Christians we long for truth that is relevant and wisdom that is reliable. In search of spiritual guidance, we often gravitate to the latest book by a popular author. But the feel-good stories and simplistic spirituality in many of these books just don't go deep enough to provide what we crave most—long-term, biblically sound spiritual direction.
We need more than a temporary bandage for the soul, and the words of history's spiritual giants are the timeless prescription. Take Heart presents daily devotions from some of history's greatest preachers and insights from their most thought-provoking sermons. Updated with contemporary language, these powerful excerpts from well-known Christians such as C. H. Spurgeon, John Bunyan, Augustine, and George Whitefield are rich in insight, solid biblical teaching, and practical counsel for today's believers.
This book challenges readers to rise above quick-fix theology and shallow spiritual experience and provides the needed encouragement to "be strong and take heart."
Key Features
Daily devotions from thought-provoking sermons
Excerpts from Christians like C. H. Spurgeon, John Bunyan, and many more
Encourageing, solid biblical teaching
Product Details
Title: Take Heart: Daily Devotions with the Church's Great Preachers
Author: Diana Wallis
Publisher: Kregel
Publication Date: 2001
Pages: 384
About Diana Wallis
Diana Wallis enjoyed earning her degrees in Bible and Sociology, but she most loves editing and writing. While proofing manuscripts containing old sermons, she found the messages surprisingly relevant and started a collection that evolved into this book.
Sample Pages from the Print Edition
Reviews
What other people are saying about Take Heart: Daily Devotions with the Church's Great Preachers.