Bryant's Sermon Outlines on The Life of Christ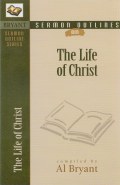 Overview
Each book in the Bryant Sermon Outline Series contains thirty or more outlines focused on one theme. These outlines are designed to spark an idea, provide an initial structure, or furnish a fitting illustration.
The outlines for this series have been chosen from some of the most respected preachers in history, such as Jabez Burns, R.G. Lee, F.E. Marsh, John Ritchie, Charles H. Spurgeon, John Wesley, and many others. Each book includes topical and textual treatments as well as a Scripture index to help you find just the right material.
About Al Bryant
Al Bryant was editor in chief of Zondervan Publishing House for more than twenty-six years and also served as managing editor of Word Books and as director for Kregel Publications. His other books include Day by Day with C. H. Spurgeon, Sourcebook for Poetry, Climbing the Heights, and New Every Morning.
Reviews
What other people are saying about Bryant's Sermon Outlines on The Life of Christ.