Morals on the Book of Job, Volume 2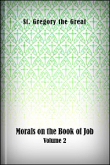 Overview
Volume 2 of the Morals on the Book of Job covers chapters 12–31, focusing on the moral instruction that can be gleaned from this book of wisdom. In his discussion of chapters 28 and 29, he specifically discusses the church and distress caused by heretics.
Product Details
Author: St. Gregory the Great
Translator: Charles Marriott
Series: A Library of Fathers of the Holy Catholic Church
Publisher: John Henry Parker
Publication Date: 1844
Pages: 621
Reviews
What other people are saying about Morals on the Book of Job, Volume 2.