The Babylonian Talmud: A Translation and Commentary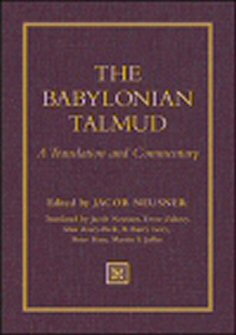 Overview
The Talmud of Babylonia (a.k.a., the Bavli, or Babylonian Talmud), is a sustained commentary on the written and oral law of Israel. Compiled between 500–600 C.E., it offers a magnificent record of how Jewish scholars preserved a humane and enduring civilization. Representing the primary document of rabbinic Judaism, it throws considerable light on the New Testament as well.
This monumental English translation was completed a decade ago—but was extraordinarily expensive and difficult to find. Featuring translations by Jacob Neusner, Tzvee Zahavy, Alan Avery-Peck, B. Barry Levy, Peter Haas, and Martin S. Jaffee, and commentary and new introductions by Jacob Neusner, all thirty-seven Talmudic tractates are available in this single searchable resource. With Logos Bible Software, the instantaneous searches by word or phrase provide exceptional research capabilities, and opens swift avenues for exploration and discovery.
Product Details
Title: The Babylonian Talmud, A Translation and Commentary (22 vols.)
Publisher: Hendrickson Publishers
Editor: Jacob Neusner
Pages: 16,530
Reviews
What other people are saying about The Babylonian Talmud: A Translation and Commentary.