The Gospel of John in Cultural and Rhetorical Perspective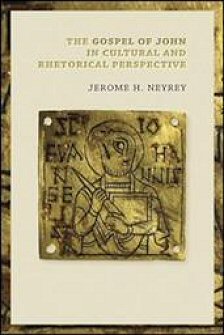 Overview
Given all that has been written about the Gospel of John over the past 20 centuries, can anything more possibly be said about it? Yes, says Jerome Neyrey—by reading this "maverick Gospel" in terms of ancient rhetoric and cultural anthropology.
By interpreting the text in these two fresh ways, Neyrey distinctively illuminates the Gospel of John, casting new light on its theological message and on such topics as Jesus practice of secrecy, foot-washing as transformation ritual, and the Jewish background of Jesus equality with God. Neyrey's scholarly study will certainly educate—and at times provoke—attentive readers.
In the Logos edition, this volume is enhanced by amazing functionality. Important terms link to dictionaries, encyclopedias, and a wealth of other resources in your digital library. Perform powerful searches to find exactly what you're looking for. Take the discussion with you using tablet and mobile apps. With Logos Bible Software, the most efficient and comprehensive research tools are in one place, so you get the most out of your study.
Key Features
Interprets the text of John in two fresh ways
Addresses Jesus' practice of secrecy, the equality of Jesus and God, as well as transformation rituals
Engages with the text in terms of ancient rhetoric and cultural anthropology
Contents
Part One: The Anatomy of the Fourth Gospel: Major Perspectives

Encomiumvs. Vituperation: Contrasting Portraits of Jesus in the Fourth Gospel
Role and Status in the Fourth Gospel: Cutting through Confusion
Spaces and Places,Whence andWhither,Homes and Rooms: "Territoriality" in the Fourth Gospel

Part Two: Narrative Episodes in Focus

"Are You Greater than Our Father Jacob?": Jesus and Jacob in John 1:51 and 4:4-26
"HeMust Increase, IMust Decrease" (John 3:30): A Cultural and Social Interpretation
What'sWrong with This Picture?: John 4, Cultural Stereotypes of Women, and Public and Private Space
"Equal to God" (John 5:18): Jesus and God's Two Powers in the Fourth Gospel
The Trials (Forensic) and Tribulations (Honor Challenges) of Jesus: John 7 in Social Science Perspective
Jesus the Judge: Forensic Process in John 8:21-59
Secrecy, Deception, and Revelation: Information Control in the Fourth Gospel
The "Noble" Shepherd in John 10: Cultural and Rhetorical Background
"I Said: You Are Gods": Psalm 82:6 and John 10
"In Conclusion . . .": John 12 as a Rhetorical "Peroratio"
The Footwashing in John 13:6-11: Transformation Ritual or Ceremony?
Worship in the Fourth Gospel: A Cultural Interpretation of John 14–17
"Despising the Shame of the Cross": Honor and Shame in the Johannine Passion Narrative

Part Three: Jesus vis-à-vis God: Agent or Equal?

"My Lord andMy God": The Heavenly Character of Jesus in John's Gospel
"I Amthe Door" (John 10:7, 9): Jesus the Broker in the Fourth Gospel
About Jerome H. Neyrey
Jerome H. Neyrey is professor emeritus of New Testament at the University of Notre Dame. His other books include Give God the Glory: Ancient Prayer and Worship in Cultural Perspective and the Gospel of John in the New Cambridge Bible Commentary.
Reviews
What other people are saying about The Gospel of John in Cultural and Rhetorical Perspective.