Religions A to Z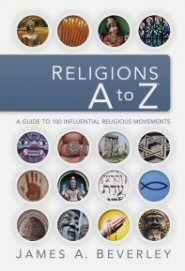 Overview
Religions A to Z is a complete, easy-to-use handbook of the origins, basic beliefs, and defining features of the world's religions, cults, and sects. Written with the Christian in mind, these profiles provide the reader with the fundamentals of today's religions and how they compare to Christianity.
This will help all Christians—from the new believer to the seasoned pastor—better understand the religions, cults, and sects around them.
Product Details
Title: Religions A to Z
Author: James A. Beverley
Publisher: Thomas Nelson
Publication Date: 2005
Pages: 276
More About This Resource
Religions A to Z will help all Christians better understand the religions, cults, and sects around them.
Each chapter of the book includes:
A brief history of the religion
Its central beliefs
An overview of its organizational structure
References for further study
A chart summarizing essential information, including (when applicable): the deity/deities, beginning date, sacred texts, famous leaders, and websites and books for further study
However, Religions A to Z is not a stagnant list of religions and their beliefs because it also includes some subjective material on each religion. The book's author, James A. Beverly, has been studying religious traditions for over a quarter century at institutions such as the Toronto School of Theology. The criticism provided in each section is not necessarily his own, but rather the critique usually centers on general attitudes toward certain beliefs or aspects of a religion.
Reviews
What other people are saying about Religions A to Z.