Understanding the Bible and Its World Collection (4 vols.)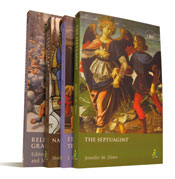 Overview
From the renowned Understanding the Bible and Its World series come four introductory volumes that open the doors to the setting and artifacts of the Scriptures. The titles in this collection reveal the importance and place of the Septuagint, religious diversity in the Graeco-Roman world, ethics' relation to the New Testament, and narrative art in the Bible. Written with the neophyte in mind, these titles nonetheless feature a level of astute scholarship that will interest even the most knowledgeable student of the Bible.
This series is designed with the needs of introductory-level students in mind. It will also appeal to general readers who want to be better informed about the latest advances in our understanding of the Bible and of the intellectual, political and religious world in which is was formed. The authors in this series bring to light the methods and insights of a whole range of disciplines – including archaeology, history, literary criticism and the social sciences – while also introducing fresh insights and approaches arising from their own research.
Individual Titles
Product Details
Title: Understanding the Bible and Its World Collection
Authors: Jennifer Dines, J. L. Houlden, Dan Dan Cohn-Sherbok, John Court, and Shimon Bar-Efrat
Publisher: Continuum, Sheffield, T&T Clark
Volumes: 4
Pages: 888
Reviews
What other people are saying about Understanding the Bible and Its World Collection (4 vols.).