Preaching the Word: 1 & 2 Thessalonians—The Hope of Salvation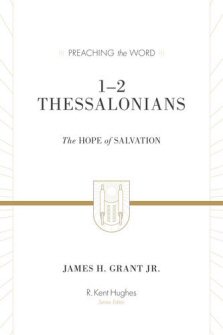 Overview
The second coming of Jesus Christ has profound implications for how Christians live today. In his letters to the Thessalonians, Paul shows that the whole of the Christian life—especially our experience of suffering and our work in ministry—is changed when we live in light of the gospel.
In this commentary, Pastor James H. Grant Jr. applies Paul's message to contemporary churches by moving expositionally through 1—2 Thessalonians, covering both personal and corporate concerns. This volume traces the way Paul shares about events in his life and addresses issues in the church of Thessalonica, unpacking the power of the gospel and what it means for our lives today.
In the Logos edition, this volume is enhanced by amazing functionality. Important terms link to dictionaries, encyclopedias, and a wealth of other resources in your digital library. Perform powerful searches to find exactly what you're looking for. Take the discussion with you using tablet and mobile apps. With Logos Bible Software, the most efficient and comprehensive research tools are in one place, so you get the most out of your study.
Key Features
Exegetes and studies the text
Assists preachers in communicating God's Word
Provides practical encouragement and advice from the text
Contents
1 Thessalonians
Listening to Paul's Conversation: Introduction to 1 Thessalonians
Christianity at Thessalonica (1:1 and Acts 17:1–10)
What Is in a Greeting? (1:1)
The Importance of Thankfulness (1:2–5)
The Christian Doctrine of Imitation (1:6–8)
All of Life Is Repentance (1:9–10)
Union with Christ and the Christian Life (2:1–12)
Preaching the Word of Christ (2:13)
The Gospel and Your Suffering (2:14–16)
Living in Light of the Gospel (2:17—3:13)
Become What You Already Are in Christ (4:1–8)
The Fruit of the Gospel: Love (4:9–12)
The Second Advent of Christ (4:13—5:11)
Resurrection Hope in the Face of Death (4:13–18)
What about the Rapture? (4:16–18)
The Day of the Lord (5:1–2)
Concerning Times and Seasons (5:1–11)
A Gospel Community (5:12–28) 145
2 Thessalonians
The Right Perspective on Suffering (1:1–5)
Eternal Destinies (1:6–12)
Jesus Will Not Come Until . . . (2:1)
Rebellion and Hope (2:1–12)
The Steadfastness of Christ (2:13—3:5)
The Gospel and Vocation (3:6–18)
The Gospel Takes Root and Bears Fruit in Thessalonica (1—2 Thessalonians)
About the Author
James H. Grant Jr. (MDiv, Reformed Theological Seminary) is pastor of Trinity Reformed Church in Rossville, Tennessee. He also teaches theology at Westminster Academy and lives in Tennessee with his wife, Brandy, and their four children: Macy, Trey, Nate, and Addie.
Reviews
What other people are saying about Preaching the Word: 1 & 2 Thessalonians—The Hope of Salvation.