Fourteen Communion Sermons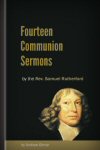 Charles Glass & Co.
, 1877
Overview
Andrew Bonar compiles Samuel Rutherford's communion addresses and discourses into a single easy-to-access volume. These sermons, preached in Galloway in the 1630s, were transcribed by attendees; they cover a wide variety of topics concerning Christ and faith.
Product Details
Title: Fourteen Communion Sermons
Author: Samuel Rutherford
Publisher: Charles Glass & Co
Publication Date: 1876
372
Reviews
What other people are saying about Fourteen Communion Sermons.