Children's Ministry Sourcebook 2006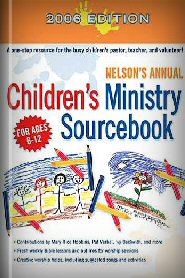 Overview
For busy children's ministry workers needing a foundational resource for planning an entire year of children's worship services. Each week is packaged with dynamic Bible lessons, plus suggestions for energy packed songs and activities. Mid-week lessons are teaser introductions for the upcoming Sunday lesson.
Key Features
52 lessons providing optional closing application: ages 6 to 10, and 10 to 12
Weekly memory verse suggestions
Activities and crafts designed for preschool and older children
Multiple song suggestions for each lesson
Mid-week enrichment lessons
Newsletter ideas
Feature articles that speak to persons in children's ministry
Product Details
Title: Children's Ministry Sourcebook 2006
Author: Vicki Wiley
Publisher: Thomas Nelson
Publication Date: 2005
Reviews
What other people are saying about Children's Ministry Sourcebook 2006.