The Essence of Christianity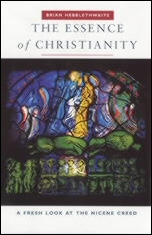 Overview
The Essence of Christianity explores the meaning and significance of the Nicene Creed for today. This is one of the early creeds which define what Christians believe and, used by many different churches in worship, it occupies a central place in Christian inspiration.
The Cambridge theologian and philosopher of religion Brian Hebblethwaite introduces the central teachings of the Christian faith in a clear, lively and accessible style. He considers the relations between Christianity and other world religions in the context of current patterns of belief and unbelief in the west. He also asks why many people find it hard to put their trust in a God of love. This book shows how theological insights can enrich traditional Christian belief and at the same time defends the Creed's claims to truth.
Product Details
Title: The Essence of Christianity: A Fresh Look at the Nicene Creed
Author: Brian Hebblethwaite
Publisher: SPCK Publishing
Publication Date: 1996
Pages: 214
About Brian Hebblethwaite
Brian Hebblethwaite is Fellow of Queens' College, Cambridge and University Lecturer in the Philosophy of Religion. His books include The Problems of Theology and The Ocean of Truth.
Sample Pages from the Print Edition
Reviews
What other people are saying about The Essence of Christianity.