The Inward Witness and Other Discourses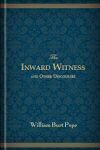 Overview
This series of discourses by William Burt Pope flows out of the idea of Christ's indwelling presence and the impact of that presence as the fundamental truth of the Christian life. Delivered on important occasions, these compiled sermons and lectures offer a glimpse into Pope's rhetorical style and the depth of his teaching and orator—a clear view of his doctrinal stances on Christ's person and work in the believer's life.
Product Details
Author: William Burt Pope
Publisher: T. Woolmer
Publication Date: 1885
Pages: 310
Reviews
What other people are saying about The Inward Witness and Other Discourses.