Messianism Among Jews and Christians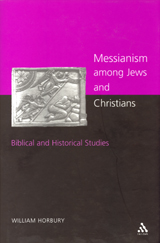 Overview
Messianism Among Jews and Christians features twelve studies of messianism among Jews and Christians focused primarily on the Herodian period and the New Testament, in the setting of ancient Jewish and early Christian theology.
William Horbury examines some relatively neglected topics bearing on messianism, including the treatment of suffering in synagogue poetry and the theology of grace in Greek Jewish poetry on the exodus. Herod's temple restoration and the reference in Persius to "Herod's days" are studied against the background of ruler cult, and the treatment of Christ as high priest in the Epistle to the Hebrews is related to Herodian priestly ideals and practices. Throughout the book, messianism is set in its broader religious and political context.
Central themes include: messianism in the Apocrypha and pseudepigrapha; the historical Jesus and the concepts of the Son of man and the Twelve; Jerusalem in Pauline hope; second-century Christology and messianism; Antichrist; and the cult of Christ and the cult of the saints in their Jewish and Christian context. The theology of ancient Judaism is discussed with special reference to debate on monotheism and Christology.
These studies represent an important and valuable resource for scholars and students of Judaism, Christianity and the world in which Christianity was born.
Praise for the Print Edition
It is rare to find a scholar with such a range of reference, such an authoritative control of detail, and such a masterly knowledge of primary and secondary material. Horbury's collection of essays, which seek to explore in a distinctive and original manner Jewish and Christian messianism in their wider cultural, social and religious context, cannot be ignored by any scholar or student with an interest in ancient Jewish and Christian history. Some may disagree with Horbury's opinions, though many will also agree with them, but few will doubt that the reading of them has extended and enlarged their knowledge of this central issue in the study of ancient Judaism and Christianity and their interaction.
—James Carleton Paget, University of Cambridge
As one would expect from Horbury, all the studies [in Messianism Among Jews and Christians] display enviable learning… There is no doubt that this volume is a monumental contribution to the study of its subject matter.
—Simon Gathercole
Product Details
Title: Messianism Among Jews and Christians: Biblical and Historical Studies
Author: William Horbury
Publisher: T&T Clark
Publication Date: 2003
Pages: 417
About William Horbury
William Horbury is Professor of Jewish and Early Christian Studies at the University of Cambridge and a Fellow of the British Academy. His previous publications include Jews and Christians in Contact and Controversy.
Sample Pages from the Print Edition
Reviews
What other people are saying about Messianism Among Jews and Christians.