Baptism Collection (3 vols.)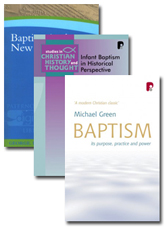 Overview
The Baptism Collection details the major controversies, histories, and theological implications of baptism. The three volumes traverse this oftentimes divisive and always important ground with the aim to exploring the common, Bible-based paths therein.
Regardless of your views on the issues and perspectives that orbit baptism, you'll find something to challenge and expand your understanding of this important institution.
Individual Titles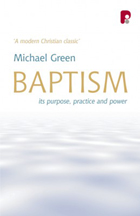 Baptism: Its Purpose, Practice and Power
Author: Michael Green
Publisher: Paternoster Press
Publication Date: 2006
Pages: 120
Baptism: It's Purpose, Practice and Power is a classic introduction to the practice and theology of baptism from a well known evangelical Anglican writer. Michael Green provides a bold, clear explanation of the different approaches, examining clear biblical evidence and teaching. Common ground between the churches is emphasized, along with the insistence that baptism is no substitute for saving faith. Even so, the author's conviction of the validity and benefits of infant baptism, in appropriate circumstances, is presented with energy and thoroughness. This accessible account will help many to a deeper understanding of the real significance of baptism.
Michael Green's book on Baptism is a classic. With his usual clear, punchy style and his profound knowledge of the biblical and historical background, he is an excellent guide to this vital topic for the church's life and health.
—Graham Tomlin, Principal of the St. Paul's Theological Centre, Holy Trinity Brompton, London
Dr. Michael Green has spent his life working as a church leader, lecturer, a writer and an evangelist. He is currently co-Rector of an emerging Anglican Church in North Carolina.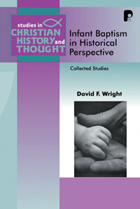 Infant Baptism in Historical Perspective: Collected Studies
Author: David F. Wright
Publisher: Paternoster Press
Publication Date: 2006
Pages: 300
These important and incisive essays, spanning more than two decades of research and engagement, probe facets and episodes of infant baptism's fortunes over twenty centuries. The story of paedo baptism is traced from its shadowy beginnings as a variant of faith-baptism, through inflated Reformation defenses as it monopolized baptismal thought and practice, to biblical and ecumenical re-evaluations and hopeful contemporary rapprochements across divisive waters.
Essential reading for infant Baptists and believer Baptists alike.
—Anthony R. Cross
David F. Wright is emeritus professor of Patristic and Reformed Christianity, New College, University of Edinburgh.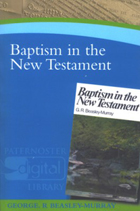 Baptism in the New Testament
Author: George R. Beasley-Murray
Publisher: Paternoster Press
Publication Date: 2005
Pages: 421
This classic work on baptism, originally published in 1962, is an exceptionally competent and exhaustive treatment of its subject. Baptism in the New Testament considers the Old Testament and Judaistic background to baptism, as well as giving a detailed study of relevant New Testament passages. Beasley-Murray begins his study with a consideration of the antecedents of Christian baptism, and proceeds through the biblical data in the Gospels, Acts, and the Epistles. In a fifth chapter he undertakes a synthesis of the baptismal doctrine of the New Testament as this relates to several major theological themes. As a postscript, this chapter deals with "Baptismal Reform and Inter-Church Relationships."
…the author of Baptism in the New Testament possesses a truly astonishing acquaintance with the literature of the subject, and interacts with a wide range of scholarly discussion, much of which is not easily accessible to the English-reading public.
—Westminster Theological Journal
[Baptism in the New Testament] is a work of first class scholarship…
—F. F. Bruce
Product Details
Title: Baptism Collection (3 vols.)
Publisher: Paternoster Press
Volumes: 3
Pages: 841
Reviews
What other people are saying about Baptism Collection (3 vols.).