The Works of Ezekiel Hopkins, vol. 3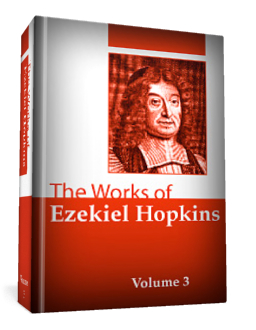 Volume three continues Hopkins' well-informed and vibrant sermons. In a bold yet humble manner, Ezekiel Hopkins expounds on important theology of the church with sermons on the fear of God, heavenly treasures, the assurance of salvation, and the glorification of God.
About Ezekiel Hopkins
Ezekiel Hopkins, born in Ireland in 1634, grew up in the Church of Ireland where he was a chorister for about five years. He studied at Oxford and graduated in 1656, living in England as a preacher after that. The Act of Uniformity of 1662, a set of rulings requiring uniformity in the Church, affected Hopkins. At that point he conformed to the Church of England. Later in life he became Bishop of Londonderry. He died in 1690.
Reviews
What other people are saying about The Works of Ezekiel Hopkins, vol. 3.