The Works of Ezekiel Hopkins, vol. 4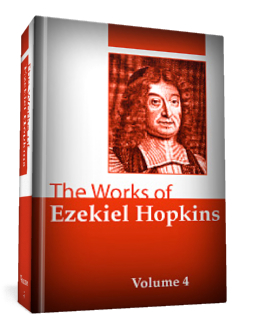 Wrapping up The Works of Ezekiel Hopkins (4 Vols.) are sermons on Christ's birth, resurrection, holiness, and the last judgment. True to Hopkins' preaching style, his last volume of sermons is brimming with biblical truth and scholasticism.
About Ezekiel Hopkins
Ezekiel Hopkins, born in Ireland in 1634, grew up in the Church of Ireland where he was a chorister for about five years. He studied at Oxford and graduated in 1656, living in England as a preacher after that. The Act of Uniformity of 1662, a set of rulings requiring uniformity in the Church, affected Hopkins. At that point he conformed to the Church of England. Later in life he became Bishop of Londonderry. He died in 1690.
Reviews
What other people are saying about The Works of Ezekiel Hopkins, vol. 4.