Living Words in Ephesians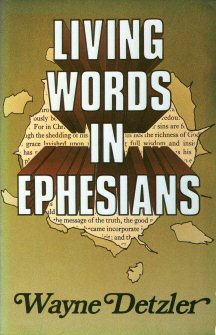 Overview
Every word of Scripture is important and while it can be argued that no word is more important than another, there are some words which are more full of meaning than others. From St. Paul's Epistle to the Ephesians, Detzler selects important words and in a simple and direct way explains their meaning.
In the Logos edition, this volume is enhanced by amazing functionality. Scripture citations link directly to English translations, and important terms link to dictionaries, encyclopedias, and a wealth of other resources in your digital library. Perform powerful searches to find exactly what you're looking for. Take the discussion with you using tablet and mobile apps. With Logos Bible Software, the most efficient and comprehensive research tools are in one place, so you get the most out of your study.
Key Features
Presents extensive word studies from Ephesians
Provides each word's precise meaning and usage
Discusses theological and societal backgrounds of words
Contents
Saints Alive (Ephesians 1:1)
God's Choice (Ephesians 1:4)
Mystery Revealed (Ephesians 1:9)
Holy Spirit Sealed (Ephesians 1:13)
Knowing God (Ephesians 1:17)
Gathered Church (Ephesians 1:22)
Divine Wrath (Ephesians 2:3)
Free Grace (Ephesians 2:5, 8)
Saving Faith (Ephesians 2:8)
Possible Peace (Ephesians 2:14)
Growing Temple (Ephesians 2:21)
The Revealing God (Ephesians 3:3)
Spiritually Rich (Ephesians 3:8)
Many-splendoured Wisdom (Ephesians 3:10)
Super Love (Ephesians 3:19)
Full-filling God (Ephesians 3:19)
Unity of the Spirit (Ephesians 4:3)
Mature Believers (Ephesians 4:13)
Baby Believers (Ephesians 4:14)
Pointless Pursuits (Ephesians 4:17)
Learning Christ (Ephesians 4:20)
Falsehood Rejected (Ephesians 4:25)
God's Mimics (Ephesians 5:1)
Shining Lights (Ephesians 5:8)
Spirit Filled (Ephesians 5:18)
Spiritual Submission (Ephesians 5:21)
He Is Head (Ephesians 5:23)
It's Right to Obey (Ephesians 6:1, 5)
Satan's Schemes (Ephesians 6:11)
Christian Armour (Ephesians 6:13)
Prayer in the Spirit (Ephesians 6:18–20)
Faithful Servant (Ephesians 6:21)
Praise for the Print Edition
Seldom has a more useful and edifying book come into my hands . . . No one at any level of Christian growth and experience could fail to be helped and thrilled by this eminently useful book.
—Evangelical Times
Combines exegetical skill, racy and attractive presentation, and overall biblical balance.
—Christian Graduate
Dr. Detzler has a masterful use of illustration and anecdote to bring the meaning of the words to light.
—Grace Magazine
About Wayne Detzler
Wayne Detzler received his BA and MA from Wheaton and his PhD from the University of Manchester. He is the academic dean of Southern Evangelical Seminary. He is also the director of the Graduate School of Ministry and Missions and the director of the Bible College in addition to being a professor of biblical studies, missions, and historical theology.
Reviews
What other people are saying about Living Words in Ephesians.